I'm going to keep this one short, Im running on fumes at the moment, just finished watching the game and I wanted to post a bit while the thoughts are still fresh in my mind.
The Rangers played a really good Tom Renney game tonight. They backchecked, they didnt give too many opportunities, and they kept a very strong offensive team down by playing their system.
They did all that, and they lost.
Why? Because once again, only 1 goal was scored, and once again, it was not by one of the high paid people who are brought in here to score those goals. It was a garbage goal, scored by your 4th line. It should lift up the rest of your team, make you pumped, get you energized. Instead the Rangers didn't muster much in the way of quality chances…maybe 5 or 6 the entire game. The Panthers on the other hand swarmed the hell out of the Rangers, who managed to limit the shots on goal to 43, when it could have easily been 55-60 with the way those guys were going for it. Henrik Lundqvist was nothing short of spectacular, and we still lost.
The more things change, the more they stay the same.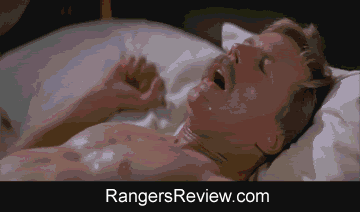 ---