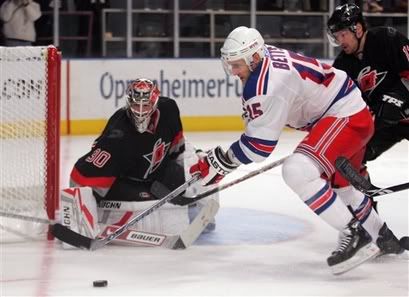 You had another game where the Rangers played an inferior opponent past regulation and into a skills competition, you had another game where the Rangers took an entire period of (the 2nd), you had another game where the Rangers looked lackluster at best out there, and a 3rd line of Drury, Callahan, and Dawes that looked like they would struggle in the AHL let alone the NHL, and yet, all I could come away with after this game was….man oh man, what a pretty shootout move by Chris Drury.
I mean, seriously, did you see the fake shot, and super quick move to the backhand only to roof it? That thing was beautiful, and it only proves that this guy has some skill. Why he is having so much trouble translating it into regulation play is beyond me.
With Mats Sundin, their perhaps savior, in the stands the Rangers did nothing to entice him to play with them. The Rangers were lackluster for the majority of this game, often times hearing boos from the Garden faithful, and very infrequently anything positive from them. Henrik Lundqvist was superb, and again, had to be in order for us to pick up the W. Other than that, it was a very mediocre performance, that has done nothing to assuage my feelings of doom and gloom with regards to this club. The defense was horrific, the forwards didn't generate many quality chances (3 at the most imho), and the Power Play was horrible outside of one very nice pass by Scott Gomez (The PP doesn't have to score for it to be effective, so long as they are setting up, generating chances, and forcing the goalie to make great saves, by and large we didn't even have the puck in their zone, it was dump, chase, turnover, and reset almost every time).
One of the few things I was happy about though was the play of Blair Betts. This guy continues to be one of the few Rangers I am proud to have on my team. Here is a guy who earns his check night in and night out. He may not have the best offensive instincts, but he brings his work hat every shift, and leaves everything out on the ice.
Hopefully the next time I am writing, it will be something along the lines of…
Rangers make blockbuster trade, and sign free agent Mats Sundin….but with my luck…
Anyways, let me finish this up with this little tidbit:
The Detroit Red Wings foreign scout flies to Baghdad to watch a young Iraqi
play hockey in the new American sponsored league, and is suitably impressed
and arranges for him to come over to the U.S.

Ken Holland signs him to a one year contract and the kid joins the team for
the preseason.

Two weeks later the Wings are down 4-0 to the Blackhawks with only 10
minutes left. Mike Babcock gives the young Iraqi the nod and he goes in. The
kid is a sensation – scores 4 goals in 10 minutes and wins the game for the
Wings! The fans are delighted, the players and coaches are delighted, and
the media love the new star.

When the player comes off the ice he phones his mom to tell her
about his first day of NHL hockey. "Hello mom, guess what?" he says.
"I played for 10 minutes today, we were 4-0 down, but I scored
4 goals and we won. Everybody loves me, the fans, the media, they all
love me."

"Wonderful," says his mom, "Let me tell you about my day. Your father got
shot in the street, your sister and I were ambushed, raped and
beaten, and your brother has joined a gang of looters, and all while you
were having such great time."

The young Iraqi is very upset. "What can I say mom, but I'm so sorry."

"Sorry? You're Sorry?" says his mom, "It's your fault we moved to Detroit
in the first place!"
---