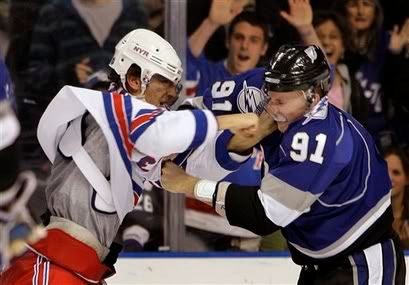 Tom Renney hasn't changed a thing with this team. We are still playing boring old trap hockey. We haven't opened up squat. Luckily, the team showed up for 60 minutes, and therefore were able to keep up with a very aggressive Tampa Bay team who played much better than in the previous 3 tilts. Still though, the result was what you would expect from Renney hockey. An ultra close game, bookended by superior goaltending from start to finish. I don't want the team to play like this, but other than that small aspect, there really isn't much to complain about tonight.
We played a full game, we played strong in all 3 zones, and both goals scored were legit goals that you really can't blame anyone other than to tip your hat to the other team. Our offense scored 2 goals, and generated a fair number of chances, our much (unfairly) maligned defenseman Michal Rozsival played a brilliant game now that Marc Staal is rightfully his partner, and, as usual, Henrik Lundqvist was there to slam the door shut.
2 points in the bank, and points you can definitely call legitimately won points. We deserved these 2 points is what I am saying, while I am not so sure that applies to many of our games this season.
One negative though was probably the play of Wade Redden, who really has been flat out bad since he has come here. You won't find a bigger fan of his than me, but there is no disputing that his signing is looking worse, and worse as each game goes on. He looks significantly slower than he was only 2 years ago, his passes have no authority to them (ie, are way too soft, letting the defense adjust to the play easily), and he rarely jumps in on the offense, although he did do so twice today. I hope Wade starts to turn it around, because the Garden faithful will soon realize the wrong defenseman is getting the boos.
That's all for now, gotta get ready for Thanksgiving. Hope you all have a great turkey day with your loved ones (unless you are a Devil fans, in which case I hope you choke on an errant turkey bone
) and I will see you in a few.
---