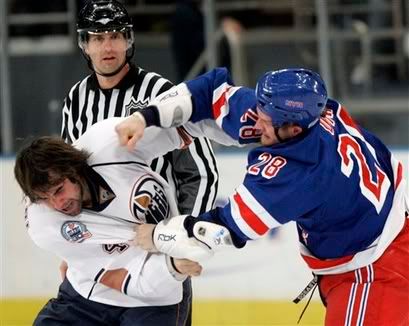 2 out of 3. 40 out of 60. 66.667%. That is the effort level the Rangers give us night in and night out. What I am talking about is the fact that for pretty much the entire season, (with the exception of Henrik Lundqvist) this team only shows up for 2 out of every 3 periods, and sometimes less. Really besides 3 games, against the Devils, and the Lightning early in the season, they have played in this infuriating manner. 66% is borderline pass/fail (depending on how your school works) and that is exactly why the Rangers are always in these super close 1 goal games. They are playing borderline win-lose hockey. Sometimes the 66% is a pass (win by 1 goal or so) and sometimes it is a fail (lose in a shootout, or lose 2-1, etc), but either way it all leads to one thing, the Rangers losing more games than they are winning, and a team that can't find any cohesiveness, or chemistry whatsoever.
Speaking of chemistry, can someone explain something to me? Why is it that Sam Weinman, and Zip and the other beat writers always seem to report 1 set of "new lines" for the team which they practice with, only to have the club put out an entirely different set of lines on game day. Does that make any sense at all to you? Unless we are talking scouting, which during the regular season is stupid, it makes no sense to waste your practice time with combinations you ultimately don't use.
With regards to todays lineup, I really didn't like what I saw out there. Particularly from Chris Drury. He seemed woefully out of place with the Dubinsky-Zherdev duo, and the Korpedo line was pretty mediocre as well. With the players we have now, the lineup seen in game 1 still seems like the best fit for this club. Tom Renney should at least give it a try, if for no other reason then to shut me the hell up.
I have not been happy with the play of this club for a while now. At first I was looking at it half full, thinking to myself, imagine how good this team will be if they can put it all together. Now I find myself wishing for the days when I felt that way, because it now appears to me that this team has gone in the wrong direction. Rather than putting it all together, the threads are starting to come apart.
---