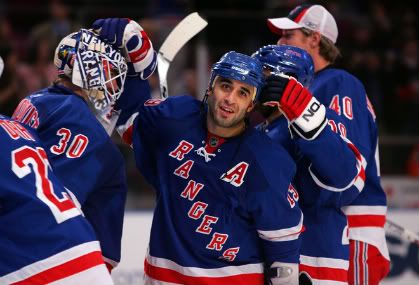 This Rangers season so far this year has been perfectly encapsulated by Nikolai Zherdevs performance tonight. Twice he had ridiculous, PUTRID turnovers that directly led to rushes against. He also took an inexcusable slewfooting penalty, and did a blatant dive/embellish in order to draw a penalty (which worked, but it was a dive/interference/baiting/whatever you want to call it nonetheless). He also scored an absolutely sick goal, he set up the game winner, and he made the most brilliant defensive play ever seen by a "lazy Russian". Here is a guy (and a team) with a lot of question marks. How good can he (they) be? How much offense can he (they) provide? How good will his (their) defense be? How disciplined can he (they) be? All questions that will help to give us an idea of how the Rangers will eventually look like after all is said and done. Right now the answer is sort of…I'm not sure, to all of those questions. The defense can be brilliant at times, like Zherdevs beautiful backcheck (and this guy was labeled as lazy?!), but Dimitri Kalinin also had a brain fart of epic proportions that led to the game being tied late in the 3rd. Zherdev scored an absolutely beautiful goal, but the offense was shooting blanks most of the night as Scotty Gomez set up wingers with picture perfect chances only to have them stink up the joint and not put the puck in (I am pointing at you Nigel!). The Power Play did score a goal, but they did so on an individual effort by Zherdev, and by and large looked hopeless, and possibly worse than last year.
Their are questions and real concerns about this team, and yet they seem to defy all logic, and continue to win game after game. They are beating teams they should beat, and they are overcoming their own cockiness (read, laziness) to start these games by finishing strong. But they are also not correcting mistakes in their overall game quickly enough, and they are also having new problems creep up as old problems are partially resolved.
Let me give you an example.
Markus Naslund has finally decided to take my advice and shoot the effing puck more. That makes me happy, and is also directly leading him to score more goals. Problem, fixed. Right? However now on a line centered by a center who is a shooter not a scorer, his scoring ability is being grossly underutilized. Solution…now a problem. I will say this again, and I know I sound like a broken record, but it is absolutely criminal for the Rangers to be wasting Scotty Gomez, and some very fine performances by him, with 2 wingers who simply can not put the puck in the net with any kind of consistency. Ryan Callahan is a 3rd liner. I love the guy, I consider him a vital cog for this team, but he should be playing with energy players who will put the puck home because of their work ethic, rather than their sheer skill. Nigel Dawes is a very easy to figure out player. If he isn't scoring, he is one of the 3 most useless players on this team. If the puck is going in the net, he is worth his weight in gold (goal'd?), if the puck is not going in the net, as it is now, he is doing far more harm than good. The solution should be blatantly obvious. First, you unite Gomez with some real scorers. Want to put him with Zherdev? Dubinsky? Naslund? Drury? Someone like that? Be my guest. As long as it is someone whom we can all agree is a legitimate scoring threat out there. You do not, I repeat, do not put an offensive weapon like Gomez with no thumbed players, particularly at a time where Gomez is flying, but can't get his linemates to finish his glorious chances.
But all in all the story of this game, as has been the story of just about every game the Rangers have played so far this season is Henrik Lundqvist. Henrik once again played a superb, remarkable game. Giving up 2 goals, both from ridiculously high percentage areas with no defensive player within 5 feet, but stonewalling the Thrashers on numerous scoring chances other than that. Personally, I feel the Rangers were out forechecked in this game. The Thrashers did a great job of getting the puck in deep, cycling, getting a shooter to shake off his defender, and getting the puck to that shooter. The Rangers let Henrik out to dry numerous times, a few chances at point blank range, but as has been the story this entire season, he has stood tall and saved out butts. If Henrik isn't the early season leader for the Hart trophy, I'd like to see the guy who is. The Rangers of course have built their entire franchise, their entire system around Henrik, so it should be no surprise when he is playing this good. The surprise to me is how the rest of the team really hasn't stepped up to the same level of commitment, night in and night out, that Henrik has. What I am getting at is our slow starts, and frequent long lapses in concentration, and effort. I am talking about these long periods of time where Henrik has to be King Henrik, rather than just plain old ordinary Henrik Lundqvist. Henrik should not be under constant barrages under Tom Renneys system. Under his system the 5 man unit defends as 1, they clog the middle, and force everything to the outside. Under his plan, they should also have control of the puck far more than then are, and they should be causing far more turnovers than they are. In short, the team around Henrik, by and large, is not pulling their own weight. I think it is time they realized that smoke, mirrors, and a red hot goalie can only get you so far.
Wake up boys, there is still a long way to go.
---