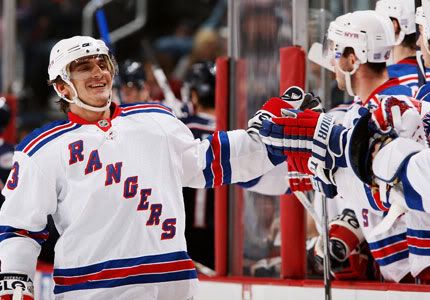 That's the phrase isn't it? You can't go home again? Something like that? Well the Blue Jackets sure as hell wished Nikolai Zherdev had followed that old adage and never showed up last night. Instead the 23 year old Rangers sniper had arguably his best game as a Ranger, notching 2 primary assists and a goal to ice the Blue Jackets late in the 3rd. It was a really impressive night for Zherdev, particularly with just how putrid his two linemates were. Chris Drury and Markus Naslund had, in my opinion, their worst games (offensively) as Rangers. Drury and Naslund were constantly out of synch, neither could read off of the other with any degree of accuracy, and the 2 of them just held back Zherdev big time.
I was for the change and moving Zherdev to their line, but after that performance, it seems to me to be a waste of Zherdevs talent to put him with those 2. The Playstation line once again produced on the Power Play while the Naslund Gomez Drury trio have done less than nothing with their time on the ice…speaking of..
I think it seems clear, based on pretty measurable ways, that the 3 best forwards for the Rangers, thus far, have been the 3 kids on the Playstation line (Voros Dubi, Zherdev). Separate, together, power play, even strength, whatever, these 3 seem to be our 3 best forwards just about every single game. So wouldn't it make sense to you that when you are a man up, you want the 3 players who are your best players. Not the 3 players who SHOULD be your best players, not the 3 players who are making the most money, but the 3 players who actually PLAY the best. Makes sense doesn't it? (i hope) So why is it that on each and every Power Play that we have, the Rangers always start the trio of Naslund, Gomez, and Drury, who usually have extreme problems even getting into the zone to set up offensively. Then after those 3 do nada for 90 seconds, the Rangers switch up to the playstation line, who generate all kinds of offensive pressure, but only get 20-30 seconds of power play chance with which to make things happen.
The Rangers forwards have scored 6 power play goals. 5 legit ones, and Zherdev scored one literally as a power play expired. Of those 6 goals, 1 was by Zherdev, 2 are by Dubi, and 2 are by Voros. The other 1 was the super easy goal that Naslund put in against the Stars.
That trio has accounted for just about all the offense on the PP that our forwards have produced, and yet Naslund, Drury and Gomez just about double them on PPTOI (here is the link http://www.nhl.com/ice/playerstats.htm?fetchKey=20092NYRAASAll&sort=powerPlayTimeOnIce&viewName=timeOnIce )
Does this make any sense at all to you guys? Because I sure as hell don't get it. It just boggles the mind as to why their superb play isn't being further exploited by Tom Renney.
But, I digress. Speaking of Renney, I am glad to hear that he is doing just fine after getting thumped on the top of his head with an errant stick. I was actually a little worried there for a while because they said on the air that he had lost control of his arms and legs, as if he was showing symptoms of partial paralysis rather than concussion symptoms. I am not like Renney all the time, and I sure as hell don't get what he does out there most of the time, I definitely respect the guy, and what he has done for this club, and yes, I really was worried and am glad he is ok.
This game though, was not a pretty game for the Rangers. They certainly tried hard, and weren't lazy or anything, and as usual was superb in their own zone, but they didn't have the same kind of buzzing attack they showed earlier in the season. I am not sure where the hell that has gone to, but I want it back damn it. The lack of chemistry of these lines were pretty obvious to me, so much so that I expected them to be changed up right away.
Speaking of lines, I want to leave you with one last thing. I hate the lines as constructed. Here is how I would make the lines, and how I would spread out the ice time.
Voros – Dubinsky – Zherdev (22-25 minutes)
Naslund – Gomez – Drury (18-20 minutes)
Prucha – Korpikoski – Callahan (12-15 minutes)
Sjostrom – Betts – Orr (4-8 minutes)
But hey, that's just me. See you tomorrow for a huge game. Rangers take on the Pens in a rematch of the 2nd round matchup from last season. I am really looking forward to seeing this one.