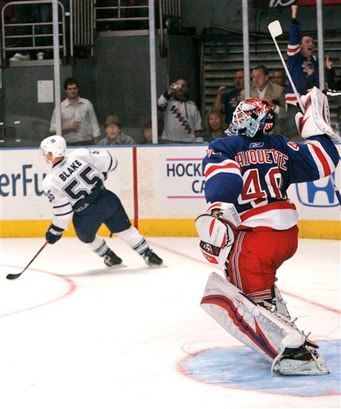 So far this season there is really only one thing I can point to as a big time problem for this club, and it can be summed up in two words. Markus Naslund. Naslund has really brought down the level of production on every line he has played on. From the power play to even strength, from the first line to the third line, Markus is absolutely killing this team with his play. And really, it is all a production of one thing. Naslund is a really good guy, and really wants to badly fit in with this teammates. In short, he is overpassing. The guys is as skilled a sniper as there is in the NHL today, and he is passing up glorious scoring chance after glorious scoring chance. Basically the guy is not playing Markus Naslund hockey, and it showed yet again today. Instead of sneaking around the perimeter getting himself open for a quick shot, he is parking his ass in front of the net, he is playing behind the net, and he is looking at his linemates before he looks at the goal. Bad. Bad. Bad.
Now you guys know me, I absolutely 100% believe in guys going to the net, what I don't believe is snipers playing like power forwards (or passers), or passers playing like scorers (Gomez). Naslund should be around the net, but off to the side, between the circles, moving around trying to get open and unleash that wicked wrist shot when he gets it. He needs to keep moving, side to side, in and out, all over the place, and just rip that shot. And yes, he needs to crash the net on a goal mouth scramble, but he should not park himself in front of the net as he did a few times tonight, that is not his game. He was playing on a line with Dan Fritsche, a much more "gruntish" type player who could easily park his butt in front of the net, and on top of that he was playing with Chris Drury who has made a living scoring goals within 5 feet of the goal mouth.
So that leads us to the conundrum. How do you get an unselfish player to become more selfish? How do you get a guy who is clearly trying hard to make his linemates look good to instead make himself look good? I think this falls on Tom Renney. First and foremost I would move him off the power play and instead move Ryan Callahan in his spot. Why Callahan? Because Cally has absolutely no problems whatsoever in shooting the puck. Any place, any time, Cally will shoot it. He may not have the best shot on the team, but he is willing to shoot the puck.
That is really my only problem in tonights game. Outside of that I felt the Rangers played a very intelligent game. They weren't good, not by any stretch of the imagination, but what they were was intelligent. They played smart, not hard. When they can combine the 2, then you will see something lethal. They kept everything to the outside, they made the Leafs skate a full 200 feet, they didn't have too many egregious turnovers, they didn't take too many penalties, and they played quite well in front of their goalie. What they didn't do though is to work hard as well. They didn't put near enough pressure on Toskala, tossing up several weak chances in the first 2 period, and not really maintaining any sort of a forecheck whatsoever. They seemed to get stronger as the game wore on, but they still looked rather….not there…for the most part. I put some blame on Renney who instead of shuffling around just the 3rd line, decided to realign the first and third lines in an effort to jump start the club. I think (like my buddy Eric from the NY Rangers Cast) that the club is best served by leaving the trio of Naslund Gomez and Drury together on even strength. Change it around during the PP, but at even strength, give them every opportunity to work out their problems. Play with the third line however you see fit Tom, but I don't think it helps to split those 3 up without giving them every opportunity to fix themselves.
Finally the talk of this game was Stephen Valliquette, who did have a very strong game, but let's face it, the Rangers didn't give up very many quality chances against. Vally really just had to make some very average saves to pick up the win. Twice the Leafs had wide open nets but whiffed on shots or shot them out and out wide. Vally was exactly what you need from your backup. Solid. The team in front of him was quite good in keeping things to the outside (for the most part) which really helped out spider-man big time.
Rangers now get to play the defending champs in their building. I wouldn't expect much from this one guys, the Rangers look to be getting less and less effective offensively as this brutal beginning part of their season starts to come to an end. I really hope Henrik comes up with a masterful performance, because he is going to need to against that team, Chelios or no Chelios.
---