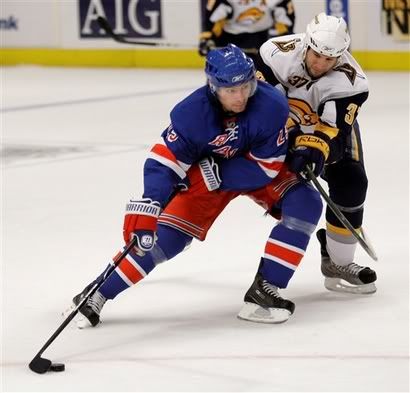 Sorry for the delay, yesterdays debate and post debate coverage kept me busy till 3am, then I hit the sack. Anyway, I think this was a good, and important loss for the Rangers to suffer. I think something like this was just what the doctor ordered. Why? Because it is important to be humbled and be brought back down to earth when your ego gets too high. The Rangers, like they did after they went up 4-0, and like they have done for a multitude of long stretches this year, failed to play hockey once they took an early lead. After the Rangers went up 1-0 they simply stopped playing their game. They stopped aggressively forechecking, they stopped playing defense as a 5 man unit, they made sloppy passes, skated lazily (none more glaring than the guy wearing the C on Vaneks breakaway), and out and out showed little passion for a game they are so handsomely rewarded to play.
When you start to win a bunch of games in a row while not giving it your best, you need to nice kick in the balls to wake your ass up. So let me say this loud and clear for the Rangers to hear this. YOU ARE NOT TALENTED/GOOD ENOUGH TO SHOW UP AND WIN HOCKEY GAMES FELLAS, YOU NEED TO WORK YOUR ASSES OFF FOR 60 MINUTES TO PICK UP THE W. I hope that clears things up for them.
Though there might be one negative that comes out of this, I fear Tom Renney may already start to juggle the lines and possibly dismantle a highly successful 2nd line after only 1 bad game for the trio. That makes no sense whatsoever. Sure, do it in the game to wake up the team, but leave those guys alone for the future games, give them at least 5 bad games in a row before you break them up.
The Rangers 3 goals given up were all a result of poor defensive play or discipline. Blair Betts knocked in a puck into his own net, Chris Drury was lazy and didn't skate back to cover a wide open Vanek for a shorty, and Paul Mara took a selfish penalty when he preferred to settle a grudge at the expense of his own team. That is not good hockey, more importantly, that is not smart hockey, and even more important than that, that is not Rangers hockey (this year). We need to be hard on the puck, we need to skate hard, and play in your face hockey. In short we need to be what Buffalo was last night, rather than what New York was last night.
I sincerely hope Tom Renney is putting the team through the paces today, a humbling loss is only a good loss if the team is kicked in the ass afterwards to get themselves straightened out.
That's all for today, see you guys tomorrow night.
---