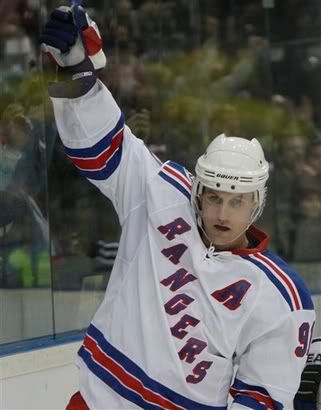 Ok, let me give you an idea of how may day has gone. I woke up at 7am on a Saturday morning in a hotel in Florida after having gotten no more than 3 hours sleep because of an uncomfortable mattress. I did work related stuff from 9am till 6pm non stop sans a 20 minute lunch break. Then I immediately hopped in my car and drove for ~8 1/2 hours (with rest stops) back home. Arriving at home at about 2:30 am, I immediately put on my Rangers jersey and turned the DVR on. I watched the entire pregame, game, and postgame. After all is said and done, I'm sitting here at 5am, nearly a full 24hours after I woke up this morning, with a website that pretty much requires my attention.
Unfortunately the fact that my skull feels like its going to explode is going to force me to keep this abrupt, so here we go.
I thought this game was a lot closer than it looked. The Rangers had about the same amount of high quality scoring chances that the Lightning did. Both goalies were absolutely magnificent, with Smith having to stop a lot more of the less quality shots, and he had to deal with almost double the penalty kill time that Henrik had to. Still, I think Henrik had to face more difficult shots in that Stamkos, and Lecavalier both had clean breakaways, and neither scored, while only Drury had a clear break for us, and he looked to be fearing a backcheck so he fired a pretty low percentage shot at the net instead.
The Rangers though, defensive lapses aside, looked pretty damn superb. They were using their swarm attack to a "T". Absolutely owning the puck, and not giving it up. This was a common theme through all 4 lines. I kinda liked the lines with the exception of the 4th line, I think I would rather see Sjostrom – Betts – Fritsche instead. That lineup then is just a nightmare to deal with in terms of counter attack speed, and defensive responsibility. Yes, it is much softer, but it doesnt look like that's going to be something that throws this team off, because of the sheer speed they have.
Great to see Doobzilla score the game winner, this kid is going to be something special. I thought Zherdev was active, but ineffective today, mostly because when he had the puck all the lanes were clogged, and he looks to want to set up Dubinsky rather than take the shot himself, which can be a problem.
Ok, now I have to get to bed. I probably won't even wake up in time to watch the game as it starts….Thank God for TIVO.
zzzzzzzzzzzzzzzzzzzzzzzzzzzz…………….
---