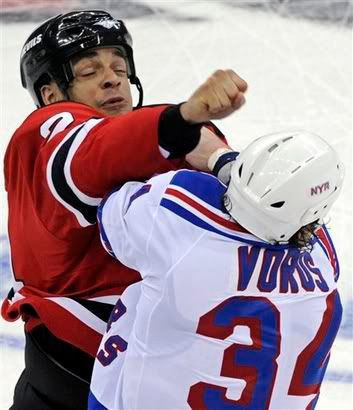 For the 3rd time in 4 games the Rangers lost 3-2. However unlike the previous 2 games the Rangers looked decidedly worse than the opposition. In the previous 2 games you could definitely point to a lot of positives, headlined by the Rangers playing really well only to lose in a close game to a team sporting it's entire roster. This cannot be used tonight. First and foremost the Rangers were sporting a lineup about equal in strength to what the Devils put out there. Secondly the Rangers did not play well, but just the opposite they looked quite terrible out there for the majority of the game.
I know everyone is going to point to Petr Nedved and his goal and assist looked good out there, but I have to be honest, I thought he had quite a poor game. I think this is one of those rare cases where you can't just look at the stat sheet to gauge how a player did. Yes, he scored a goal, but it was a flukey play that happened to flutter in, and the assist he had was a nice play, but the goal that went in was a knuckler, hardly what you would call a legit goal. Don't get me wrong, the ugly, flukey goals are just as important as the pretty ones, but to me, in this case, they don't do enough to nullify what was a poor game by Petr. He had a horrific turnover which directly led to a goal against (on a flukey play helped by a puck bouncing off the ref) in which he simply lost control of the puck and skated a stride and a half before he realized it, at which point it was too late and the Devils broke the other way in an odd man rush. He also didn't generate much in the way of offense, registering the single shot on goal, and didn't do much in the way defensively either. All in all, I wasn't impressed enough to put him in the lineup over Lauri Korpikoski or P.A. Parenteau, both of whom have looked better than Nedved in my opinion.
Continuing with the negative theme of this discussion, you start at the top and work your way all the way to the bottom sans Fahey. The top line of Dawes, Drury and Prucha looked completely out of sorts, generating 5 very weak shots on goal, none of which even came close to challenging either Uncle Daddy or Clemmensen. I think it's high time to end this experiment Tom, they just dont look big enough to compete as a line. I think you need to put some size on that line. Perhaps shift Zherdev down, Prucha down, and Callahan to the first line. I don't honestly know, but there just isn't enough speed between the 3 of them to counteract the lack of size. They are easily pushed off the puck, and their passes are not quick or concise. However you want to do it, I think it's safe to say this may be the least effective of the big 3 lines we will be sporting.
Greg Moore had an absolutely invisible game, and this was not a "positive" invisible either. I actually had to double check he was playing when someone commented on how bad he was playing over on one of the message boards. I've been rooting for the kid to take Blair Betts' spot, but he is clearly not ready for the NHL. I would send him down immediately to start working in Hartford for this coming year. Brodie Dupont, a kid I have been eagerly anticipating in this years training camp, has also done nothing noteworthy to talk about. He's been a lot like Artem Anisimov, in that he seems so focused in not screwing up that he isn't taking full advantage of what he can do out there. I think of anything the Rangers management has said over the past few years, nothing is clearer than they are willing to live with mistakes as long as they are decisive ones. If you are trying to make a play, and do so with passion and play it hard, they will live with it if you screw up, so don't be afraid to fail. The other prospect we have playing here, Dale Weise, looked ok. Nothing spectacular, but nothing terrible either. He looked like a kid, who tried hard, but needs some more seasoning before he is ready. There is some potential there, perhaps a Ryan Callahan clone.
But perhaps the player I was most disappointed with in this game was Dan Fritsche. I can honestly say, this kid has no business being on the Rangers opening day lineup. If he makes the team over P.A. Parenteau or Lauri Korpikoski, it will be a travesty. Fritsche was conspicuously always a second too late on the play, and it wasn't for a lack of foot speed. He would show up just as a pass was leaving a lane he was getting into, he would pursue where the puck was, rather than where it is or where it will go. He looked to lack hockey sense in other words. Perhaps I am being a bit brutal, but that is just how I feel. I honestly can not say I saw a single positive thing worth mentioning about him thus far. Which is a crying shame since I had him penciled in on the 3rd line with Dubinsky, but right now, that looks to be a huge mistake potentially.
Patrick Rissmiller has basically played himself out of contention as well. Missing the net on a breakaway, and doing absolutely nothing to stand out as well. He's a 4th liner for sure, the problem is, the Rangers have so many guys capable of playing on the 3rd line, that the 2 wingers on the 4th line will both likely be 3rd line quality. Rissmiller made a pretty big mistake signing with the Rangers in my personal opinion. Anyone who knows the strength of this organization, knows it is in having tons of 3rd line capable wingers in Hartford. Rissmiller has done nothing to separate himself from the pack of 4th liners to move into the pack of 3rd liners. In an offseason where Colton Orr has made huge strides in improving his game, Rissmiller looks to have simply stayed the same.
Defensively I can say this was easily the worst game of Marc Staals professional career. Thankfully it was in a preseason game. He continually misplayed players, pucks, and the body. Honestly, it looked like he was playing with the flu, he looked off in every aspect of his game. Rozsival was a little bit better, but not anything worth mentioning. Perhaps it was just an off game, but I am still eager to see a pairing of Staal and Redden with Rozsival and Girardi. Call me crazy, but I think those pairings make more sense, handedness be damned.
On the positive side of things it would be tough not to be impressed with the play of Brian Fahey. The youngster from the Chicago Wolves came as advertised, a puck moving defenseman with superb vision. His defensive skills are also underrated. He looked strikingly similar to Corey Potter from last night, but I felt Potter was a bit better with the speed in which he executed his plays. Vladimir Denisov also looked pretty good to me in his own zone, taking the body liberally, although he did take a bad penalty, and shows little to no offensive upside (a real killer in this organization with the way it is heading).
In goal Henrik Lundqvist gave up a goal on a 5 on 3 on what looked like a very saveable shot. He also gave up a terrible stuff in goal in the second period as well. Antoine LaFleur was ok I guess, but the goal he gave up was just terrible (and it ended up being the game winner) in which he simply flubbed a very easy save only to have the rebound wacked in behind him. This is looking like a real waste of a 2nd round draft pick.
I don't mean to be so damn negative here today, but this is really how I saw tonights game. Furthermore with tomorrow being the last game of the 4 straight preseason matchups, I think tonight is a good time to start making some cuts. I personally would cut Rissmiller, Fritsche, Denisov, Moore, LaFleur, Zabba, Dupont and Jamtin. I would consider Nedved, Jessiman, Byers, Sanguinetti, Del Zotto, Anisimov, Fahey and Weise as guys worth playing one more game before sending them down/over. I would consider taking all of Wiikman, Pock, Potter, Korpikoski, and Parenteau, on the trip to Russia to play in the exhibition games after the final game against Tampa, as they have looked the most NHL ready of everyone here at camp.
Ok guys, the home stretch is upon us, see you tomorrow!
---