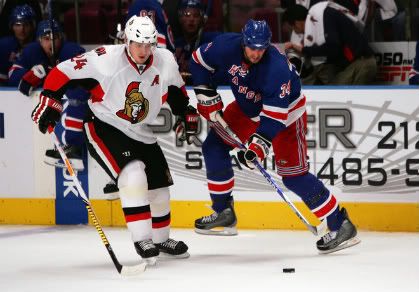 Ok, so I waited a few hours to write this article, in large part thanks to an argument I have been having over on the HFBoards. Despite watching a team look superb defensively, despite watching a top line show definite signs of chemistry and extreme creativity, all I could think about was how aggravated I was with MSG Network, and their constant need to forcefeed me (and you) Aaron Voros. It seems pretty obvious to this blogger that the management of the Rangers is trying desperately to sell Voros to us as the next Avery. "Youre going to love this guy" is a phrase Joe Micheletti and the other group of announcers uttered probably about a dozen times in the past 72 hours.
Look, why don't you guys let us figure out what players we will and will not like ok? Don't insult me with this blatant attempt to create a new fan favorite and instead let me figure out just how much I like the guy. Speaking of which, how much DO I like the guy? Truth be told, in the small sample size I have seen, not all that much. People seem to talk about the guy like he is the second coming of Todd Bertuzzi, going to the front of the net to grab garbage goals, and fighting big names to stick up for his teammates. Really? Is that what you guys saw? What I saw was a large guy who was perfectly willing to go to the front of the net, but constantly (and I can't stress the word constantly enough) was knocked down (ie, lost a battle), and who was perfectly willing to battle down low for pucks, but again, was constantly knocked down (ie, lost a battle) in his attempt. He had 1 play where I was semi-impressed, the nice semi-touch pass to Nedved for his goal. It was a nice play, sure, but was it something remarkable?
Maybe, it's just me, but willingness to go to the net shouldn't be something you laud, it should be something you expect. Just because the Rangers organization has been filled with perpetually perimeter big men, doesn't mean you need to be happy when a borderline AHL player is willing to do so. Remember folks, Voros is a 27 year old player with a grand total of 55 NHL games in his pocket. That says to me this is a guy who was a tweener (a player who has a tough time making the NHL, but is clearly too good for the AHL) and finally got a chance with a low depth team, and sorta stuck. The guy played 55 games and had 14 points, often times running shotgun with one of the most talented players in the universe, Marian Gaborik. I am supposed to be impressed with that? Seriously?
There is a player already within the Rangers organization who has better balance than Voros, who fights at least as well, if not better, who makes his living in front of the net, who has really nice hands for a big guy, who is a power forward, who protects his teammates, who has outperformed Voros at every level he has played in, and is 5 years younger. Who am I talking about? One Dane Byers. A kid who has never been given a legitimate shot to stick with the big club. In fact the signing of Voros, to me, is a slap in the face of Byers. Why on earth would you bring in an older Byers clone when you already have him in the lineup? The argument was made that perhaps the Rangers feel that Byers can develop into more of a player given big time minutes in Hartford. Perhaps this is true, and if it is, then I applaud the organization, but if it isn't then I have to seriously question what the hell management is thinking.
Look, all I am saying is that all this forcefeeding of Voros down our throat, while completely ignoring the fact that a comparable player is already here, and quite possibly NHL ready, really ticks me off.
On to the actual game. The Rangers, playing basically Ottawas farm team, really looked strong. While offensively they generated a ton of shots (38) they actually could have generated quite a bit more. They overpassed (didn't we get rid of the euros?!) quite a bit when they had legit point blank scoring chances, but the culprits were not the usual suspects as I noticed Dubinsky, Nedved and Naslund all forcing one pass too many, when generally they are considered shooters rather than passers. The first line showed some pretty impressive passing skills as they often used their speed and creativity to create 3 on 2's all over the ice moving the puck with breathless precision to tear apart the Ottawa defense. Unfortunately all that passing led to a grand total of zero goals, but hey, it's the preseason, give them time.
Brandon Dubinsky once again had a superb game, notching an assist (2 goals, 1 assist in 2 preseason games for those of you keeping score), and hitting a post on the same shift. Dubinskys linemate, Dan Fritsche, was not impressive at all. In fact I would say he took a step back in my opinion of him. I anticipated…more. Just more activity, more noticeability, more of everything. On the flip side, I was very happy with the performances of P.A. Parenteau, and Lauri Korpikoski, Parenteau was active all over the ice, so much so that I had to quickly look up who the heck #39 was to make sure I mentioned him. Korpedo on the other hand was superb defensively, as I would expect, and got himself a goal by (*gasp!*) going to the front of the net and deflecting a shot.
On the defensive end, as a team the Rangers were superb, limiting the Senators to 22 shots on goal, only 2 or 3 of which were even remotely challenging. They gave up 1 goal on an epic defensive breakdown. First Dan Girardi pinched and missed, then Wade Redden was caught flat footed trying to defend a 2 on 1 break and tried a last minute stick check only to completely pull himself out of the play and lead to a 2 on 0 against a defenseless Matt Zaba (who looked a little shaky, quite a few times bobbling easy saves, I suspect nerves). Dimitri Kalinin and Bobby Sanguinetti did not have great games either, often times mishandling passes, losing control of the puck, or passing to the wrong side of a player. Don't read too much into Sanguinetti's game as he was destined for Hartford no matter what. Kalinin on the other hand may just have been rusty, but by all accounts, this has been his modus operandi for a while now.
The power play looked superb, though it didn't score any goals to show for their effort. There was some superb passing and movement though, which is a great sign of things to come. As they start working on sustained game plans, I am sure they will net their share of goals. It was also a bit hard to judge conclusively since many times non power play players, like Colton Orr, got some power play time.
Regarding some of the other prospects, Anisimov, Fahey, Weise, etc. There is nothing really to report. They looked ok. I wanted a lot more from Anisimov. I don't think he's quite ready, which we have known for some time now, but it probably should have sunk in after that performance. Weise has drawn rave reviews by the Rangers management, even getting himself a nice contract recently, but I wasn't all that impressed. Again, these are kids, so let's not overreact here, they are what they are, I am just letting you guys know what I thought.
Finally we have Nikolai Zherdev. A guy whom I was thrilled to get on this team. After watching this game, I am more sure than ever that this kid is going to be a star here. First let's start with the negatives. Yes, quite a few times he was lazy, and didn't skate very hard, he seemed particularly slow in changing lines, he also tried to be super fancy out there on every shift, often times coughing the puck up leading to the opposition rushing the other way. But the positives, to me, far outweighed the negatives. The creativity led to some really pretty passing plays which led to some good chances by that top line. The kid also hustled back to break up a 2 on 1 against when the Rangers were on the power play. He also won a 1 on 4 battle to end the game and keep the Senators pinned in their zone (remember this was a 2-1 game, if this was a regular season game situation, that would be really impressive, so much so that even Larry Brooks might say something positive) for basically the entire final 15 seconds. He also threw at least 2 relatively big hits (not bone crackers or anything, but hits that knocked guys down) and looked more than willing to play in all 3 zones.
All in all, it was a very encouraging game, but should be tempered with the quality of the opposition. We looked good, but weren't facing an NHL squad by and large. But on the flip side of that argument, half of our team was also not an NHL squad, so that is a good sign as well.
On a personal note, I have no idea when I will get to Part 4 of my review. With 4 consecutive games, I won't have the time to do so now. Hopefully right after that I will get to it. See you all tomorrow!
---