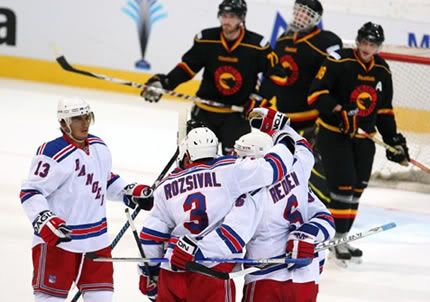 Sorry for the lateness in getting this up, I have had a few things on my plate to take care of today. Usually you like to preface a single thought or a single paragraph. Today I want to preface this entire post. Yes, I recognize that today's win was against a team that is far inferior to the New York Rangers in terms of talent. Yes, I recognize that today's win was marred (in my opinion) by some HORRENDOUS officiating, clearly in the Rangers favor (at least 1/3rd of the calls were just bogus). Yes, I recognize that for the vast majority of this game, it was too close to call.
While acknowledging all of those things, I would like to point out that the Rangers did not dress Henrik Lundqvist, Markus Naslund, Marc Staal, Paul Mara or Nigel Dawes. So that is also a little telling considering the importance of those players to this team. To me though there were a few things that really stood out to me. First and foremost, I really did not see much of a difference between this game and either of the games against Ottawa or Tampa Bay. They looked very similar, at least the way I remember them. The Rangers dominating play for huge stretches of time, the Rangers unable to score more than 2 goals (for at least 2 periods today), and the opposition getting few quality chances against. The difference today, I think, were 2 fold. First and foremost, after being completely unable to even buy a goal, after the start of the 3rd period things just started to "click". Shots started to go in. There was only 1 play where I can say the goalie should have had it, or at least should have had a better play on it, and that was the Brandon Dubinsky highlight reel first goal where he faked the players right out of their boots and backhanded it into an empty net. The goalie should have rotated much quicker, and over committed to the shot far too early, falling prey to a fake that, while it was beautiful, probably wouldn't work against most NHL goalies to that extent. Other than that the Rangers goals looked pretty legit to me. Shots just inside the crossbar, shots deflected, 5 on 3's, perfect passes, etc.
The other major difference was goaltending. Finally the Rangers can look at their goalkeeper and say, this guy played a heck of a game. Big Vally was superb today, finally playing like he did for the bulk of last year. He was strong up high, down low, and flashed his very good glove hand repeatedly. Vally kept us in this game while the Rangers offense struggled to finally break out of the shell that has encapsulated them all preseason. A shell that has seen them out and out DOMINATE their opponents to near humiliating levels, with absolutely nothing to show for it but loss after loss after loss. The flip side to this equation is that finally the oppositions goaltending didn't look like Patrick Roy in the prime of his career. It seemed like last week every game the other teams goalie looked like they were a generational goalie out there stopping some pretty crazy shots.
These are 2 huge steps for this team, both of which are within their control and are helped dramatically by the breakout of the offense, and the goaltending today. Never discount the power of positive thinking. That's why teams can sometimes get ridiculously hot, or equally ridiculously cold during the course of a year while still putting out the same lineup night after night. Confidence is huge, if the Rangers lost todays game while continuing to dominate every facet of the game, it could have been a monstrous blow to this team, perhaps leading to a hole they would never dig themselves out of. Am I being a bit over dramatic here? Perhaps, but I know I for one would be humiliated if I were on the Rangers if I was part of a team that lost to SC Bern of all teams.
The other 2 huge positives that came out of todays win was the obvious chemistry between Gomez and Drury, and even moreso between Dubinsky and Zherdev. The pairs looked good, but disinterested in their final preseason game back home in New York against the Devils. Today they looked fine and quite interested. Drury netting himself a nice goal that initially looked to be Gomez's, and both getting high quality shots with Petr Prucha on the other side. Unfortunately I am not sure the exact stats here because nowhere can I find a scorecard that lists who picked up assists definitively, but as far as I can remember that is the only official scoring those 2 had. Dubinsky and Zherdev combined for at least 2 goals and an assist, with Zherdev picking up another assist on the Drury goal. I think Zherdev may have also picked up an assist on Dubinskys first goal being the one to tip the puck up to him, but I am not positive. The funny thing is, those 2 could have easily combined for another 2 goals, with Zherdev setting up Dubinsky for 2 point blank high quality shots with gorgeous feeds. I have a feeling Dubinsky is going to love playing with a guy like Zherdev. Yes, he screws up a lot while trying to be too fancy, but you know what? I LOVE it. He is creative, he is young, and he brings something we haven't had in a long while, unpredictability. It would not surprise me at all if the combination of Dubinsky and Zherdev end up being this teams top line after all is said and done this season, they have looked that impressive.
There were also 2 huge standouts as well that we haven't even touched on yet. Both players picked up a goal and an assist, with Korpikoski picking up an assist on Potters goal, and Potter picking up an assist on Korpikoskis goal. Those 2 look like they belong on this team. At this point, it shouldn't be a question of whether they make the team or not, it should be a question of, who doesn't make it because of their performances, which leads us to…
Petr Prucha. A guy I continue to staunchly support, did manage to pick himself up a goal today on a slight deflection of a Dmitri Kalinin shot, however he continued to miss on shot after shot after shot. The kid is working his tail off, getting himself into prime scoring places, but somehow, unfathomably, has been unable to bury a goal on one of his shots. I have a feeling that Prucha might be playing himself out of the starting lineup thanks to this unfortunate bad luck black hole he seems to be stuck in. I hope I am wrong, but right now, I don't see Prucha making this team, at least not unless we are willing to lose at least one of Sjostrom or Fritsche on waivers.
That's it for today folks, see you tomorrow when the Rangers played Mettalurg. Adios!