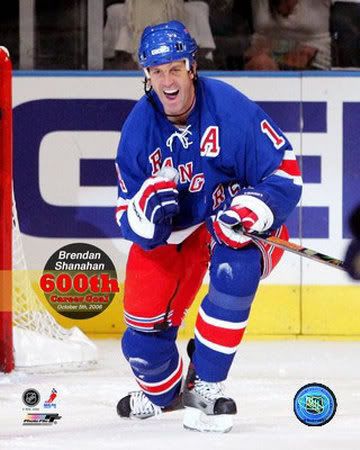 So I've been sitting back, reading Weinman, Zipay, and Dellapinas blogs & articles concerning one Brendan Shanahan. I've kinda sat back, and not said much, both on the message boards, and their respective blogs. But I figure time has come to at least touch on this subject.
First, let me do my best imitation of a broken record by saying that Brendan Shanahan is one of my favorite hockey players of all time. Not just as a New York Ranger, but as an NHLer. I generally find it difficult to cheer for non Rangers outside of a select few, for example Joe Sakic, Jarome Iginla, Trevor Linden, etc. It really takes a special hockey player for me to look past the jersey hes wearing and appreciate what he does on and off the ice. Brendan Shanahan, year in and year out, was right at the top of my list of favorite hockey players. When he joined the Rangers, it was like a long lost brother being found, that's how ecstatic I was when the signing was announced. Here were the Rangers signing the greatest power winger of all time to a pretty cap friendly deal, with Shanahan himself saying he wanted to earn his money by signing a relatively cheap 1 year contract. Once again class personified, Shanahan did what was right for the team, and he started it off the day he inked that contract.
On the ice Shanny was a revelation. Scoring in seemingly every single game to start off the season, looking to be well on his way to breaking the record Jaromir Jagr had set the year before, but a freak collision in the middle of a slow down for him signaled the end of that bid. Still though, Shanny had a terrific first year with the Rangers, helping to get them into the 2nd round of the playoffs, by netting 29 goals and 33 assists in 67 games, followed by a very strong 5 goal, 2 assist performance in 10 playoff games. Despite what many of you guys think, this EARNED Brendan Shanahans higher 2nd year contract. Many people were baffled why the Rangers would sign Shanny to effectively a 5+ million dollar contract when he was aging, and slowing down. Not me, it made sense to bring him back. He brought it on and off the ice, and was the real captain of a team poised to make a real run at the Goblet of Stanley.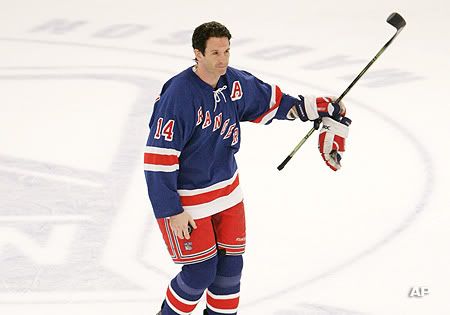 Sadly Shanny's second tour with the Rangers wasn't on par with his first year. It was clear from game 1 that Shanny was a little bit slower than the year before, and after being paired with Scotty Gomez after the Gomez-Jagr connection failed miserably it really became painfully aware to everyone that Shanny could not keep up with the future Rangers #1 center. Shanny was constantly slowing down Gomez, and whoever the left winger was on their line (sometimes Avery, sometimes Dawes). Shanny still managed to put up a respectable 23 goals, 23 assists for 46 points in 73 games. But it was down the stretch where it started to get painful to watch. In the playoffs Shanahan scored 1 goal and 4 assists for 5 points in 10 games. But that number is extremely misleading, none of his assists stand out as primary assists, and his 1 goal was a fluke shot that Uncle Daddy should have stopped…heck it was a shot that guys in my hockey league would be kicking themselves for letting in. But that doesn't even begin to tell the story, counting the playoffs in his final 29 games played Brendan Shanahan scored a grand total of 4 goals, one of them being the aforementioned fluke shot. Even counting the fluke shot, those final 29 games extrapolate to 11 goals, and folks thats with playing 3:59 per game, on average, on the Power Play, which was the 3rd most on the Rangers. People love to scream how Jaromir Jagr killed the Rangers Power Play, but keep in mind Shanny only played 10 seconds fewer per game than Jaromir on the PP, and was just as much to blame for the PP's failure.
So you had a Rangers team that couldn't score a lick on the Power Play that featured Brendan Shanahan for the bulk of it, and a 2nd line that was basically Scotty Gomez carrying around the rest of his linemates on his back for the final 30-40 games. One would think that would spell the end for Brendan Shanahan, but, greatness it seems has a longer shelf life than mediocrity (though someone should tell that to the suddenly re-employed Jamie Lundmark). Brendan has stated that he only wants to play for the Rangers (unless they tell him to hit the road) and that he would be willing to take a reduced role. My God, how can anyone not love the guy for saying stuff like that? I mean, seriously, you have a sure fire first ballot hall of famer, holder of the #11 place on the all time goal scoring list saying he would take a reduced role to come back and finish his career with a cup.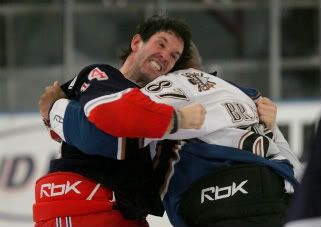 So, we have an offseason where I could theoretically imagine Brendan Shanahan coming back on a 3rd or 4th line role with the entire crew from last year being reunited for one last try. But Glen Sather threw me a huge curveball by going out and COMPLETELY changing the face of this team. Sather went out and picked up guys who made sense for the rest of the team. He picked up guys who are square pegs to fit into the square holes we have. He went out and got guys who are built for Tom Renney hockey. Guys who can skate…FAST, guys who can press the puck out of the zone, guys who can play with Gomez and Drury, guys who compliment our core. In short, guys who play VERY different than Brendan Shanahan played down the stretch. Where Shanahan was slow, Naslund is fast. Where Shanahan is methodical, Zherdev is creative. They went out and gave Tom Renney exactly what hes asked for, including significant depth on the lower lines. But the question remains, what to do with Brendan Shanahan? Well, he has already stated that he'd be willing to take a reduced role, so lets say that leaves him open for ANY of the 12 forward positions. I think the best thing to do then, is to break up the team into 4 different categories, which are as follows:
| | | | |
| --- | --- | --- | --- |
| Top 6 Players With Guaranteed Spots: | Top 6 Players Fighting For A Spot: | Bottom 6 Players With Guaranteed Spots: | Bottom 6 Players Fighting For A Spot: |
| Scotty Gomez | Petr Prucha | Brandon Dubinsky | Aaron Voros |
| Chris Drury | Nigel Dawes | Ryan Callahan | Patrick Rismiller |
| Nikolai Zherdev | | Blair Betts | Dan Fritsche |
| Markus Naslund | | Colton Orr | Freddy Sjostrom |
| | | | Lauri Korpikoski |
So, now that we've sort of broken the teams down logically, what we have to ask ourselves is, where is the most sensible place to put Brendan Shanahan? Well, that really is the big problem isn't it? Ideally if you were to bring back Shanny, the place you'd want to play him is right there on Brandon Dubinskys wing on the 3rd line. But the team has an over abundance of bottom 6 players as it is, so much so that a kid like Lauri Korpikoski, who in my personal opinion is deserving of a shot next year, likely won't get it. Ok, so let's look at the top 6, I mean, clearly there aren't as many forwards there fighting for spots, I mean, right now you can pretty much lock up Prucha, Dawes into the guaranteed spots, and guesstimate at what the lines will look. Let's just say for shits and giggles that the Rangers will go ahead and trade Petr Prucha for a box of Oreo cookies (like many of you out there want, which by the way, for the record, I am dead against, I want something of value back for him, even if its a 2nd round draft pick, not just Oreos….or at least make it double stuffed Oreos). So now you've opened up the cap space, and the roster space to put Brendan Shanahan out there. Ask yourself which one of these guys stands out like a sore thumb, and why… Scotty Gomez, Chris Drury, Markus Naslund, Nikolai Zherdev, Nigel Dawes, and Brendan Shanahan. If you said Shanahan, and footspeed, give yourself a pat on the back.
Guys, Shanahan CAN'T play on the top 6, and will be hurting the development of our youth (Korpikoski, Fritsche) by playing on the bottom 6 (not to mention taking a younger, faster players job a-la Voros, Rismiller, Sjostrom).
Do I think Shanahan can score 20 goals next year? Yes, the shot is still there, but I do NOT think Shanahan makes sense for a)the direction this team is going speed and transition wise, and b)the development of our prospects.
In my personal opinion, as painful as it is for most of us die hard Shanny fans, you have to walk away. Go to war with what we have. Leadership is plentiful, and the style is there, Shanny would be a detriment to the team, and the last thing I want is to have to rip on a guy I have cheered for, for the bulk of my NHL watching days, because he is hurting the team with his play.
---