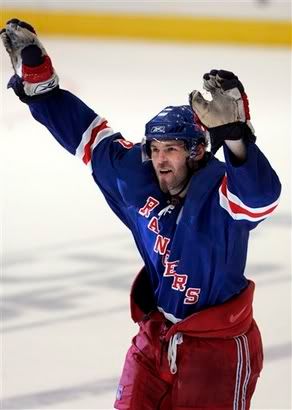 So there are a few things that we need to talk about in this game. Let's start with the first, less obvious thing. Why on earth was Ryan Hollweg in the lineup? I mean, seriously, can anyone give me one good reason? Not having healthy bodies isn't a good reason, because there are 10 kids from Hartford who can play at any moment. Ryan Hollweg disgraced the jersey by selfishly costing his team a game. Only Tom Renney could put him right back into the lineup like that (which by the way I predicted correctly over on the ECSF message boards). Personally, I dress Hutchinson and have him be a 7th defenseman, and run your PP. Then double shift a center (Dubi and Gomez) with the 4th line during one of their few shifts. Let's not be fooled by the 2 for 7 the Rangers had on the Power Play. Dubinskys goal was a softie. It wasn't a "garbage goal", it wasn't a flukey goal, it was a soft goal that most goalies just don't give up. The other goal was an empty netter, so that doesn't count at all. Other than that the Rangers were entirely ineffective at generating much in the way of chances. Hell, they didn't even spend much time set up, period. They had trouble entering the zone, and continued with their slow, methodical passing game. I was not happy with the PP whatsoever, and some fresh blood, particularly from a PP specialist, could help awaken this club.
Next, Jaromir Jagr. Personally, I sign the guy right now. I know I called for him to be traded earlier this year, but it wasn't because I wanted him gone, it was because I thought the team was done, and he could no longer help us, and therefore would net a huge return. The guy is an absolute monster out there. He looks like he could beat the other team single handedly, thats how amazing he is playing. Looking at the woefully pathetic free agent market that is out there right now outside of Marian Hossa, I would give Jagr a 1 year, 7.5-8 million dollar deal without any hesitation whatsoever. Hell, I might even go for 2 years if thats what it takes. If you let Straka, Shanny and Malik go, and replace them with cheaper players, you can make it work easily, even while keeping the rest of the players you need. The guy wants it. Badly. As long as he wants to come back here, I would do everything under the sun to make sure it happens.
Then of course there is Henrik Lundqvist. The guy took a lot of crap so far this series, because hes given up 5 goals twice. However he has yet to have given up a soft goal, and has been just spectacular in 3 of the 4 games so far. His numbers are very artificially low because of 1)not getting any bounces go his way, unlike Fleury, and 2)he's playing against a frighteningly talented team in the Penguins. Henrik was on today, and you knew we had a good shot at winning this one in a low scoring affair. To get this to game 6, hes going to need to be even better (even better than a shutout!) in game 5.
We haven't accomplished anything yet. All we did was extend our life for another few days. The key to this series is game 5. If you win game 5, you know they won't lose game 6 at home. Then you're heading into game 7 with the Penguins having lose 3 in a row, and on the verge of blowing a 3-0 lead twice in franchise history. Of course if the Rangers lose game 5, the series is over. This next one is everything. As good as the Rangers were today, to a man, they need to be better on Sunday.
---